The Brand
The World Chocolate Awards was founded in 2010 by Ian Whitaker to independently and impartially evaluate and award chocolate for the readers of the guide book that it publishes.
The People
Ian Whitaker is the editor and evaluator for the World Chocolate Awards. Born in 1976 in England he has also lived in Belgium, France, Honduras, Italy, Peru and Spain. His first involvement with the publishing business was importing books from the United States as an entrepreneurial teenager. In 1998 he was working for a company that provided training in design-for-publication. He was then recruited as Assistant to the Director of Production by one of the UK's leading design-for-publication companies in London. Here he assisted editors and helped to oversee the production of major books and magazines. Ian went on to work for the NatWest bank and the Royal London financial institution in England. Concurrently, he persisted with diverse entrepreneurial ventures including editing for authors, music distribution, and two automotive repair companies. Since 2011 Ian has worked full time for the World Chocolate Awards. Drawing on over twenty years of experience in business, he is a strong advocate for independence, impartiality, integrity and professionalism.
It was the unusual drinking cocoa and chocolate bread that Ian's grandmother made that first gave him insight into cocoa as a versatile ingredient with complex flavours to appreciate, as opposed to the stereotypical confection.
Travelling and living abroad helped to fuel Ian's interest in discovering chocolates and appreciating different flavours. It was in 2004 that he first considered an idea for a guide to the world's best chocolates. However he could not find significant evidence that there would be demand for such a guide.
By 2010 it had become apparent that there were others who shared a passion for fine chocolate and this, combined with the knowledge that he could create the first independent and impartial award for chocolate, inspired him to invest several years into creating the World Chocolate Awards brand. The objective was not only to evaluate and award the world's finest chocolates: it was to present these chocolates in an interesting, inspirational and enjoyable book.
To gain a more complete understanding of chocolate than can obtained from reading the many inconsistent and even contrary sources of information on the subject, Ian invested in learning first hand about the cultivation of cacao and the history and the manufacture of chocolate.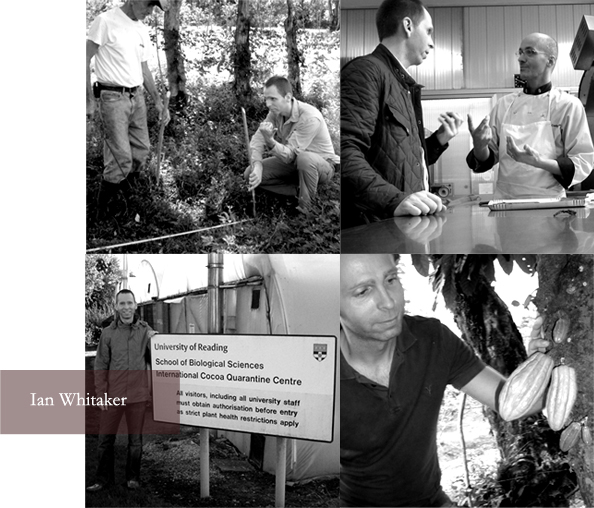 Ian has interviewed more than 15 leading chocolate makers regarding how they taste chocolate. In many cases the discussion was accompanied by chocolate tasting. No evaluation happens during this information gathering: evaluation for the guide is always conducted in private with chocolate that is purchased and this generally happens before a visit.
He has visited a variety of modern factories (as well as Maya families in Central America) where chocolate is made from cacao beans, in order to gain insight into the process. He also experimented at producing chocolate from cacao beans to improve his appreciation of both the modern and ancient processes. To study ancient methods Ian used authentic equipment such as a traditional grinding stone called a metate, which he was taught how to use in Central America.
He interviewed Mayans in Guatemala and Belize regarding their culture and the use of cacao as well as witnessing its use in markets, in homes and in rituals.
During his research into the history and production of chocolate Ian gained a considerable knowledge of antique chocolate moulds and his drive to gain first-hand knowledge about the subject he writes about has included the use of these tools.
Ian visited more than 15 sites in 5 countries where cacao was cultivated, growing wild or feral. These included commercial plantations, research plantations, gardens, an international cacao quarantine centre, Maya archaeological sites and villages.
He also conducted interviews with agronomists, cacao growers and cacao organisations and scientists about the cultivation of cacao and the early stages of its processing.
In Honduras during 2011 and 2012 he experimented under a variety of conditions with germinating cacao seeds, raising seedlings in a nursery and planting cacao. He continues the learning process by the ongoing cultivation of this small plantation which is for research only.
Eileen Whitaker, Erika Whitaker and Roger Whitaker also carry out work for the World Chocolate Awards. When appropriate, we use anonymous agents to purchase chocolate.
There never has been a business, friend or family connection between those involved in the World Chocolate Awards and chocolate brands, their public relations agents, or promoters.